TS EAMCET SPOT ADMISSIONS 2021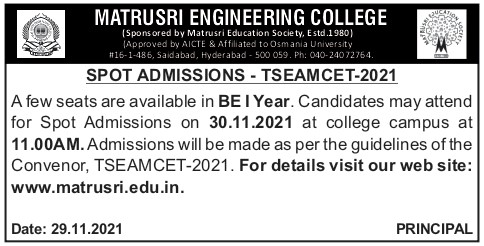 Spot Admissions TSEAMCET- 2021 on 30.11.2021
Spot admissions will be conducted in the College Premises as per following schedule.
Registration for Spot Admissions  — 11: 00 AM to 12: 00 Noon

Allotment of seats                             — 01: 00 PM
Guide Lines for Spot Admissions:
Candidates with Original Certificates are only permitted.

Candidates admitted under Spot Admissions have to pay the following Processing fee.

TSEAMCET-2021 Qualified Candidates -Rs 1200/-

TSEAMCET -2021 Not Qualified Candidates-Rs 2000/-

Candidates admitted have to pay Tuition Fee of Rs. 90000/- and special fee as applicable.

Spot admissions of the candidates are subject to ratification by the Convenor, TSEAMCET -2021 Admissions.

Spot admissions will be conducted as per the guidelines of Convenor, TSEAMCET-2021.
Note: Candidates admitted under spot admissions are not eligible for Tuition Fee Reimbursement.